"Make the most of yourself, for that is all there is of you."
Yeah...that's right peeps...I'm working it out!
It is now well into winter, even though it has been a strange one, weather-wise.
New Year's resolutions are either making people feel pretty good about themselves or kinda defeated and I am somewhere in the middle.
Monkey in the middle. C'est moi!
I guess that means the things I wanted to do kinda crossed each other out and I am not feeling defeated, but hardly triumphant.
But I'm working it out!
I hardly expected them to work it out. Jerk.
I now have a workout buddy.
Her name is Deb. She is my husband's best friend and my oldest son's best friend's mother and my middle son's best friend's mother and probably the mother of the boy who will become my baby's best friend. Got that?
Deb and I back in the 90's.
Because of all of the above, we have become pretty good friends too. Which is really good because if I didn't like her that would make life a lot more difficult!
So to clarify, Deb has three boys and a husband just like me. They are all of similar age. We have also both been on similar weight gain and weight loss journeys and just before we got pregnant with our little guys we were looking pretty damned hot!
And yes, it is not lost on me that perhaps our husbands - who have been besties since kindergarten - planned everything from timing to sexual positions to whatever else so that all of this would work out the way it did - what with our combined 6 boys all conveniently born very close to each other in age. They now have a complete hockey line, including a goalie.
Speaking of hockey and boys and lines...maybe we should start grocery shopping at the Loblaws at Maple Leaf Gardens? We are gonna need LOTS of food. Oh wait...do they have a gym in there?
Pretty smart of them. Especially since Deb and I had to do all the hard work and they just had a little fun in the process.
Anyhow - so looking ahead, us gals in this sea of testosterone realize that as we grow older, our boys will as well and we will eventually have some nice time on our hands and when we are not at the rink, maybe we will be able to go out once in a while and do some girl things. And we want to look good whilst doing so.
And so we are working it out!
If they could...we can!
Sorry...I went off on a tangent there. I NEVER do that!
Before our youngest were born, I had a play date with Deb and noticed she was looking frickin' good. I asked her what her secret was and she told me that she was doing the Jenny Craig thang. Admiring her ass, I decided that I needed to meet this Jenny Craig person, so I hoped on the train as well. And I started to enjoy looking at my own ass a little more.
Ummmm...yeah. How come when celebrities lose weight, their boobs stay the same size? I wish this were the case for me.
Then the pregnancies. Then the weight gain - me a little more than Deb - but she did not break her feet peeps! - and here we go again.
This time, I joined a gym and she just joined the same gym last week. Yay!
Our gym is located at my Loblaws grocery store - no, not the Maple Leaf Gardens one - and is for women and children. This means we can work out, put our babes in the on-site daycare, not have any guys looking at our asses while we do so and then still have time to have a coffee and grocery shop while our boys are in the daycare. Snappy!
I find it hard to get motivated on these dark, cold, grey, winter mornings.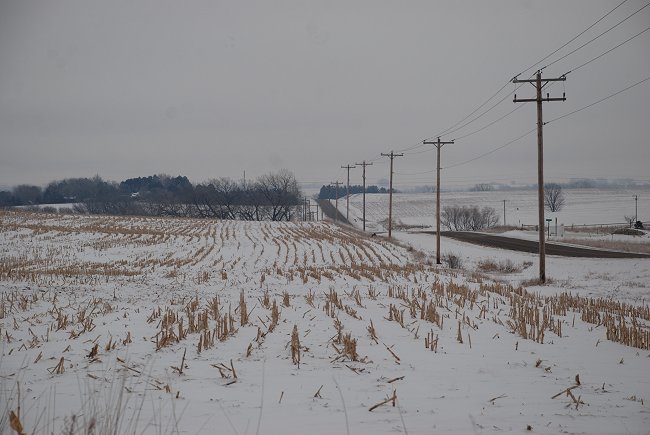 Not the most motivating of scenes. Cold and snappy!
But now that I have a buddy expecting me to show up with a smile between 9 and 9:30am and hop on the elliptical, I am much more inclined to make the extra effort. And so is she.
That's me on the elliptical looking snazzy.
So yeah...I am working it out.
And I have dropped a few pounds that don't seem to be coming back.
Yay me! I'm tired.
And I am gonna keep going.
Because I know I deserve it. I know I can do it. And I know I feel better when I do.
Yes I do!
And that will work out just fine.
Smiles,
Lora