"Like branches on a tree we grow in different directions yet our roots remain as one. Each of our lives will always be a special part of the other."
-Unknown
Now, when you saw that I called this post "Brotherly Love" I am betting you thought I would be writing about the love between brothers. Perhaps between my 3 sons.
That is a good assumption because that really is what 'brotherly love' refers to. The love between brothers.
But who is Matt?...you may be asking.
Well...this post is not about the love between brothers actually.
It is a post about the love between a sister and her brother.
Or...to be more precise, it is about the love a sister has for her brother - as I can't speak for Matt.
I have 2 younger brothers - Matt and Paul.
That is Matt in the middle and Paul beside him. The dude with the white hair is our Dad.
Recently I did a post about my towers of strength, aptly entitled
Tower of Strength
. And I was remiss in not mentioning them as two of my 'towers', so I am mentioning it here. Matt and Paul...you are two of my towers. And if you guys have no frickin' idea what I am talkin' about (Willis!), then you should really read my blog a little more often bros!
But...need I say it?...I digress.
As I was saying...I have 2 younger brothers.
That is why this is "Part 1". (Paul...you are next dude! Be afraid. Be very afraid!!!)
Apparently Paul is already afraid. My Dad thinks it is funny and Matt is trying to calm him down I think.
Matt is my "baby" brother.
Matt and his friend "Doggie" when he was a youngin'. I remember taking this pic and it remains one of my faves.
Matthew David Turnbull Breakey is 8 year younger than me and I love him very much.
Matt now. Good lookin', right?
I don't know what he is gonna think about this post, but I'm gonna take my chances and do it anyways.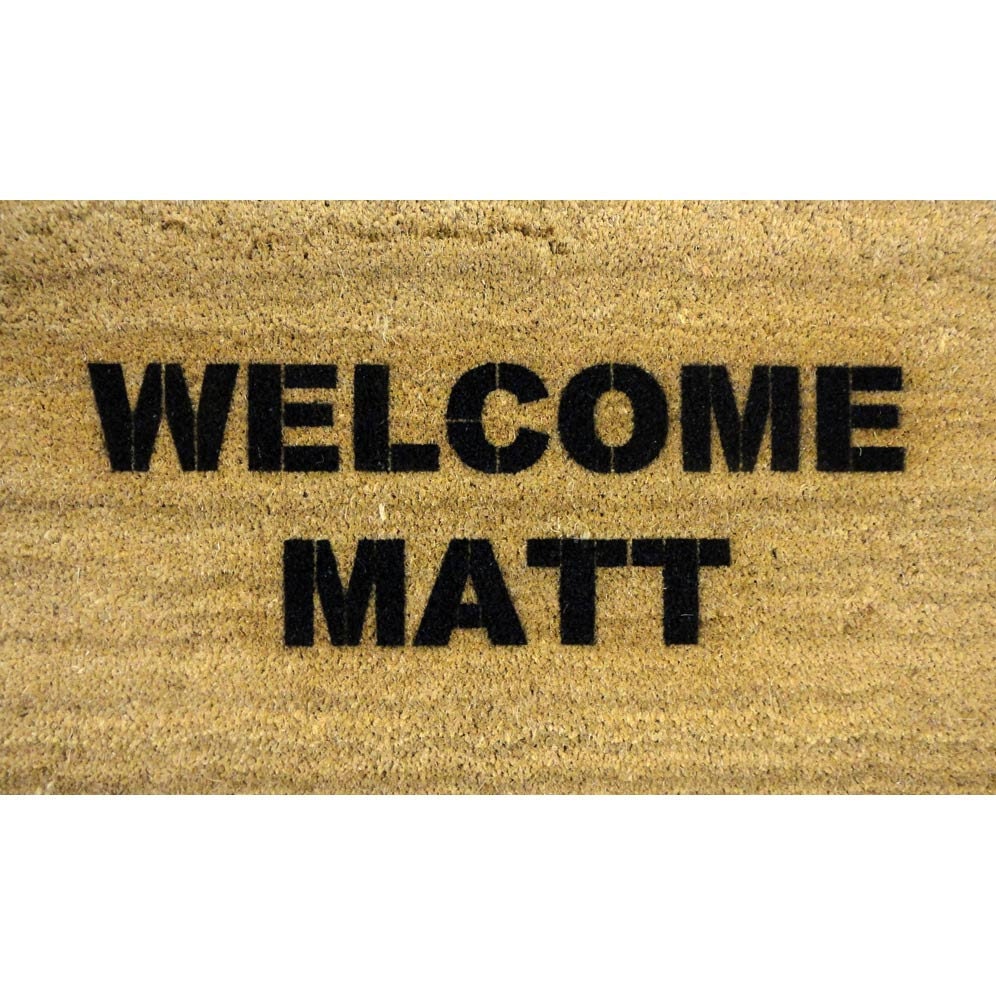 As this is The Hugging Home, I thought I would lay out the Welcome Mat for Matt. Specially designed! How creative...I know.
Matt is not only a brother, but a son, an uncle, a Godfather (to my youngest son...no he is not a mobster...not that I am aware anyways!), a friend, a boyfriend, a musician, a poet, an artist and so many other things I could be here forever so I will stop there.
Matt with my youngest son Drew - his Godson.
Matt is the brother I look most like. I am not sure if that is good or bad for him, but he is pretty damned handsome so I think I just paid myself a compliment.
Me and my bro Matt. He looks skinny. I look fat. (That is my latest poem. I kinda like it.)
I would say that I am more like Matt than Paul. We are both very abstract thinkers, have a strong need to express ourselves creatively, are both moody and brooding and he is right up there with me in the "sensitive smart-ass" category!
Another smart-ass.
...and another.
Let's talk about Matt the artist for a few. This encompasses his music, his writing and his art.
Matt is very creative in many ways. This image, however, kinda sucks.
Saying Matt is creative is an understatement.
Matt is creatively gifted.
He also has another name.
Matt's musical alter-ego is 'elevator boy'.
elevator boy
Pretty frickin' cool, right?
I know. That's because he is my brother peeps!!! Sheesh...what did you expect?
elevator boy writes, produces, mixes, plays, sings, yadda, yadda, yadda...really cool music.
elevator boy album cover. Yes of course it is his art!
But of course you want to hear it! I know my peeps better than you think!
Here ya go!
A bunch of awesome tracks by elevator boy!
And Matt's fine art. Well where do I start with this one?
Well, I can start by saying he is a multi-media artist who uses everything from pens and paint to scraps of metal and newspaper to make wonderfully creative pieces. And yes...he sells them. And yes, he has made crap-loads more money selling his art than I have. He also studied at OCAD - the esteemed Ontario College of Art & Design in Toronto. I studied art in elementary school. Slight difference.
Oh - you want to check out some of his art do you?
You ask...I deliver!
This is such a small sample I can't even tell you. He has hundreds and hundreds. All so different. Every piece made with so much passion and heart.
And his poetry?
Well...I am not going to share that with you. Matt has put his art and his music "out there" so I feel I can put it even further "out there" - but as a bit of a poet myself, I know how personal poetry can be. If Matt would like me to share some of his writing with you, I will happily do so in a later post - but that will be his call, not mine. All I will say is that it is raw, it is real and he reaches into his core and pulls some really amazing stuff out of his soul.
Matt is soooooooo much more that what I described above. Everyone is, really. What I mean, is that no one can possibly be described in a blog post. No one can be properly given the props or the accolades or the love or the whatever-you-wanna-call-it in a forum like this.
That is Matt beside me in April, 2000 at my wedding.
But I wanted to give my brother a shoutout. A virtual hug, if you will.
Why?
Because I love him.
Yes...it is Church Lady.
Oh and Matt?
I like pigeons too. (But I like you more.)
Inside joke peeps.
Smiles,
Lora