Did I just say that?
Yeah...I did.
I said "Quit it!"
What am I talking about?
I thought you'd never ask!
I am not a "quitter" by nature. When I start something, I like to see it through. I believe that if you start something, you should try to finish it.
But when is enough, enough?
When does "trying hard" become "spinning your wheels"?
Winston Churchill said "If you are going through hell, keep going."
Sure dude. I agree.
But the question is, in which direction should you move? Further into the depths of hell, or a little closer to heaven?
If you have been trying to do something...trying hard...and you feel you are stuck...maybe, just maybe, you need to stop.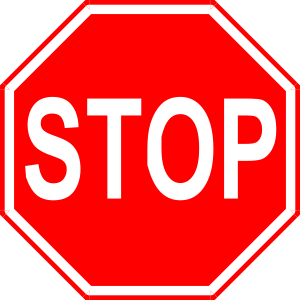 At least stop for long enough to evaluate what you are doing and why you are doing it.
Sometimes in life we start to go down a path that becomes scary, strange and uncomfortable.
Now these things don't always mean you should stop what you are doing.
But sometimes they do.
Why are you feeling afraid? Why are you uncomfortable?
Sometimes you know that these feelings are what come with new territory...and you know...in your gut...that you should push on.
But sometimes, you are hesitant because your gut is telling you that perhaps the path you are on is not the right path for you.
As you try to move forward, something is holding you back from moving quickly and swiftly. Something...maybe it is your gut...is telling you that perhaps you should have taken a different turn somewhere back there.
But you have already come this far! Why quit now?!?!??
Sound familiar?
We are taught that quitting is not a good thing. It has been hammered into our brains and we think that quitting is for losers. How can one possibly win at anything in life if you quit?
I disagree.
Let me tell you a little story.
Once upon a time, there was a young man. This man decided to go to medical school to become a doctor. His mother was a doctor and she would be so proud of him! He could still do his art on the side...in those moments of free time between his studies and his rounds at the hospital.
And so in his 2nd year of medical school he started to feel heavy. He started to feel down more than up. He realized that he didn't have much free time. He realized his paint was starting to dry up.
He realized that he didn't want to become a doctor.
OK. So I am going to stop the story here.
Because this story could continue a number of different ways.
What would you tell this young man to do?
Should he continue on with medical school? Or should he quit?
I know it is not black and white. There would be many things for him to consider. But I think you are probably seeing my point.
We only live once.
So if you are feeling like this young man...and you are feeling like you are on the wrong path...take a little time to catch your breath.
Be still.
I am not saying you should make an instant, hasty decision...but try to get a better understanding of why you are feeling the way you do. Look inward. Listen to your gut. Listen to your heart.
And if you come to the realization that you are, indeed, on the wrong path for you...then I have one piece of advice.
And it is not easy advice to follow.
Trust me, I know.
But here it is:
Quit it!
Smiles,
Lora