So going to Mexico was a bit of a wake-up call.
No...not from Adam Levine unfortunately.
I mean, one can hardly hang in a 5-star resort in that heat wearing a parka.
Yeah...so I had to wear the dreaded bathing suit.
I was horrified at the thought...the only thing that was really putting any sort of damper on the whole thing...so I figured either I just do it Nike-style or sit there schwedding my balls off watching everyone else drinking their mojitos in their suits at the swim up bar.
Ahhhh, the "Schweddy Balls" skit on SNL.
Classic!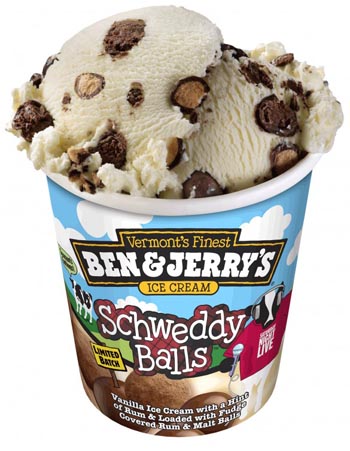 Who knew it inspired a Ben & Jerry's ice cream flavour?
Frick! Focus Lora.
Step away from the Schweddy Balls.
Not being the party-pooper type, I went Nike.
That's right!
I just did it peeps.
I, Lora Rossi, 50 lbs over-weight and feeling like a beached whale amongst my friend Sarah's ridiculously skinny friends (some of whom got up for a morning jog on the beach before breakfast!)...I put on the suit.
Wanna see a picture of me in my suit?
That's all you're gettin' at the moment peeps!
I actually took 5 suits with me.
One even had an old-lady skirt. I warned you. I am really, really, really self-conscious in this area.
Yeah...kinda like this...except not her body.
Ummmm...yeah...closer to this.
But I said "frick it!" (or something like that) and out I went.
And ya know...it was not that bad.
After the initial big move of taking off my cover-up and revealing myself in my suit in all of my not-so-glorious glory, I was OK.
The group I was with had seen me. And of course, no one really gave a shit. They were too busy drinking and looking at their own wonderful bodies to care about my less-than wonderful one.
But of course, I still felt crappy about the way I looked.
I knew it was time to get going. I mean...REALLY get going on this weight loss journey of mine that has stalled for much too long.
Any time now frickin' scale!
And so...now that I am home...I have begun.
I am motivated to prove to myself that I can do this shit.
I know I have the inner strength and it is something I really want. Again, I am pulling out the Nike in me.
Just do it!
And so...I will.
If I can stay away from that ice cream. Mmmmmmmm....schweddy balls.....
Stay tuned!
Smiles,
Lora