"The more difficulties one has to encounter, within and without, the more significant and the higher in inspiration his (or her) life will be."
Breast cancer sucks.
And it seems like every time I turn around someone else is getting diagnosed.
Friends of mine - like Clare and Rachel both fought battles.
And recently, another friend got the shocking news.
Liz Muscat, a friend, mother of 3, wife, professional and a myriad of other roles had no idea what was about to hit her.
Beautiful Liz with her handsome hubby Joe.
That's how it usually happens.
I met Liz through my husband many years ago. She is the wife of his high school friend Joe. Nothing was amiss she thought. She was a seemingly healthy, vibrant, beautiful, strong and lovely woman,
She is still all of these things except the first.
Liz has breast cancer.
I don't see her very often. We are all busy running around with our children as we all do. I generally see Liz at big events like weddings and such.
One thing I can say about Liz is that any time I have managed to bump into her she has always greeted me with a great, big smile and a hug.
Her positivity is catching.
And the amazing and inspiring thing about her is that it still is.
In fact, I have never seen her so positive and/or inspiring as she has been since her shocking diagnosis.
Like with many friends, Liz and I keep up with each others' comings and goings through Facebook. She has told me that she reads my blog from time to time and I enjoy reading her status updates and seeing pictures of her beautiful family.
She has been keeping her friends up to date on her current battle on Facebook on a daily basis. She always refers to what she is going through as her "journey".
It is simply amazing to me how someone can be hit with such a blow and yet continue to embrace the cards they have been dealt with such strength, determination, optimism and grace.
But that is how you beat this shit.
That is how it has to go.
You have to keep on keeping on.
And yet again, here is this woman that I know - someone who needs all the support and inspiration and positivity that she can get - giving ME just these things.
Giving me grace.
That's right.
Every, single day, Liz manages to put positive messages and energy out into the universe and it gives ME strength.
That is why I know she is going to beat this thing.
What you put out into the universe is often what you get back. At the very least, it gives you better odds.
Now don't get me wrong. There have been many people who have fought and fought and fought and have been nothing but inspirational - and still, the cancer spread. My friend Clare - who I wrote about
here
- is one of those amazing women. She still inspires me to this day and always will.
I just think it is interesting how other peoples' struggles in life can bring such perspective into the lives of others.
I don't think they will ever realize how impactful they are.
Liz is the personification of strong.
I thank her for reminding me of the above.
So to sweet Liz, who has so far gone though surgery and her first round of chemotherapy with bravery and an attitude that is contagious, I say "YOU GO GIRL!"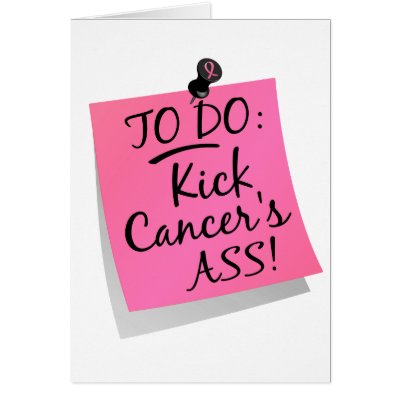 I know some people go through incredibly difficult situations in life and come out of them at the other side with a completely different view on what life is all about.
I look forward to hearing what Liz has to say about it all.
And I know I will.
I will be hearing about it from her for many, many years to come.
Because that is Liz.
She embraces life and everything in me is telling me that life will embrace her back.
I pulled this right off Liz's Facebook wall.
That's Liz for ya!
Love ya girlfriend!
And to all my other gals out there...remember:
Smiles,
Lora
PS: Please don't hesitate to leave words of encouragement, prayer and love for Liz below. Let's keep her positivity flowing!
PSS: Also...o
n Sunday, September 30, 2012, Mississauga's CIBC Run for the Cure will take place and "
Liz's Pink Stilettos
" is a team that Liz's sister Joanna has organized to support Liz.
To donate and/or for more information please click here.