So today I am 40 year old plus one day.
On my birthday yesterday, I chose to be indulgent. I eat what I wanted, read what I wanted, watched TV when I wanted, didn't move my body much, took a nap, hung out of Facebook and Twitter and even took a nice, long bath and went to bed early.
But today starts a new phase of my life.
My 40s are gonna be great...I am motivated and convinced!
I want to sparkle and shine!
Like this!
Check out that twinkle in my eye!
As I mentioned in my last post
Reinvention At 40!
, I told you that I am ready to reinvent myself. After all, 40 is the new 30...or maybe the new 20! I have a lot of changes to make in my life. Habits to break, healthy habits to implement and balance to restore.
So, in preparation for this "Project Reinvention" as I have been calling it, I have looked to making Vision Journals to better figure out what it is I want to manifest in my new and improved life.
And today, I am gonna tell you a bit about what this is all about!
The Law of Attraction has gained considerable attention ever since Oprah started extolling the virtues of the book and film
The Secret
.
I spoke about it a while back
here
.
I am a big believer in the power of this law and as such, have made using vision boards and vision journals an important part of my life.
Here are a few examples of Vision Boards (not mine):
I used to have a vision board hanging in my home office where I could see it every time I was sitting in there. That office has since become my youngest son's nursery, and so I moved to a scrap booking approach.
I use simple, spiral drawing books that I get at the local dollar store. They have good-sized, plain, ivory pages that are thicker than notebook paper but thinner than construction paper.
Here's the one I use...Dollerama baby!
So what exactly is a vision board or journal?
Well I'm gonna tell ya...and even show ya!
I am going to talk about vision journals since that is what I do now - but all of what I am going to show you can be applied to a vision board.
Basically, instead of putting your images, words, thoughts, etc. into a book, you put them on a bulletin board or a large bristol board (like when you were doing an oral presentation in school!) Well...like the examples above!
Now, I realize this is not for everyone. You may think this is all BS and/or you may think it sounds boring or "not your thing".
What is up with all this new-age crap?
Fair enough.
But I am a very visual person who loves to make things. I love getting crafty and creative. So...take this info for what it is worth and it it is not for you...perhaps share it with someone who may benefit.
All this being said, I do encourage you to at least give it a try. Nothing ventured, nothing gained, right?
So...I have me my book...and all I need after that are some magazines, glue sticks, scissors and a pen. I like the thin-tipped sharpie pens myself - but you can use what you like. You can even go further an get some coloured pencils, markers, crayons, whatever!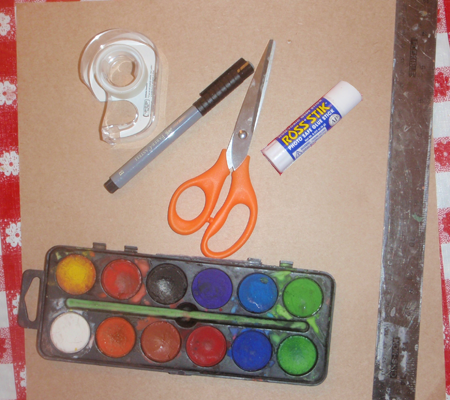 Hey...you bought this stuff for your kids...why not yourself?
There are many ways in which people go about putting together vision journal, but I keep things quite simple. I put my supplies in a cardboard box I got from IKEA (I figure that made common sense!) and then anything I cut out of magazines goes in there too...ready to but pasted into my journal.
If you wish to be a little more methodical about it - which I have done in the past - you can split your images, etc. up into categories that fit your life - like Home & Garden, Health & Wellness, Family, Fashion & Beauty, Spiritual, Work & Career, etc.
If you like the category concept, here are some to get you started.
But remember...you can create whatever you want!
You can get simple manila envelopes to separate your images before you start cutting and pasting.
Before I dive in here - just one important disclaimer: it is impossible to do this wrong. There is no "right" way to do this. I had to get over my tendency to want to make everything look "perfect" - but I soon learned that letting my journals evolve organically - without too much thought - tends to result in a more authentic journal; more of a representation of who I am am and what I am striving to become and manifest in my life.
And that is the key here. By making these journals, you are inviting the things that you want into your life to manifest; you are putting them out there into the universe.
I guess this is me manifesting.
Deep.
So let us begin.
Take a magazine. Many of mine these days have to do with home decor, work, beauty, inner strength and transformation and health/wellness. You don't even have to know this starting out. Just pick a magazine and start ripping out pages where something speaks to you.
Luckily, I have a bit of a magazine problem, so I have lots!
It could be a word, a phrase, a quote, an image, etc. Don't think about why you are drawn to something...just rip and cut it out and place it in your box. Keep going until you have a good little collection of images, phrases, etc.
Then open your journal and start pasting. If you don't have split categories, just go to it. Again, don't think too hard about placement. Don't think too hard of why you have an image of a country cottage next to an image of Reece Witherspoon next to a quote by Deepack Chopra. It's all good.
That's right Fred!
As an example...and these are very personal to me so this is making me feel a little vulnerable here...here are a few photos of a few of the page from my vision journals.
All of these images and words, etc have some sort of meaning to me. Some are quite clear and literal (like a photo of a lamp I love) and some still have me puzzled.
That's OK. All of these images caused me to stop for a second and take notice and I followed my rule to take that as I sign that it means something - perhaps on a level I am unaware of yet.
So here are a few pics from my journals:
As you can see...this journal is kind of all over the place...but my focus is on the areas I am currently working on in my life: my home, my health, my outer appearance and my inner self-confidence.
For you, it may be other things.
An image of a woman, for example, could mean I like her hair colour, her body, her sense of confidence, her job, her jeans, or something I can't even pin-point. I don't think too much about it. I just rip and cut and paste if an image makes me stop and look for a second.
Once you start your journal (or board), make sure to review it daily if you can.
Keeping these images and ideas and words at the forefront of your mind is key in manifesting what it is that you want.
So what are you waiting for?
Start manifesting!
Smiles,
Lora